Epidemic in the Borderland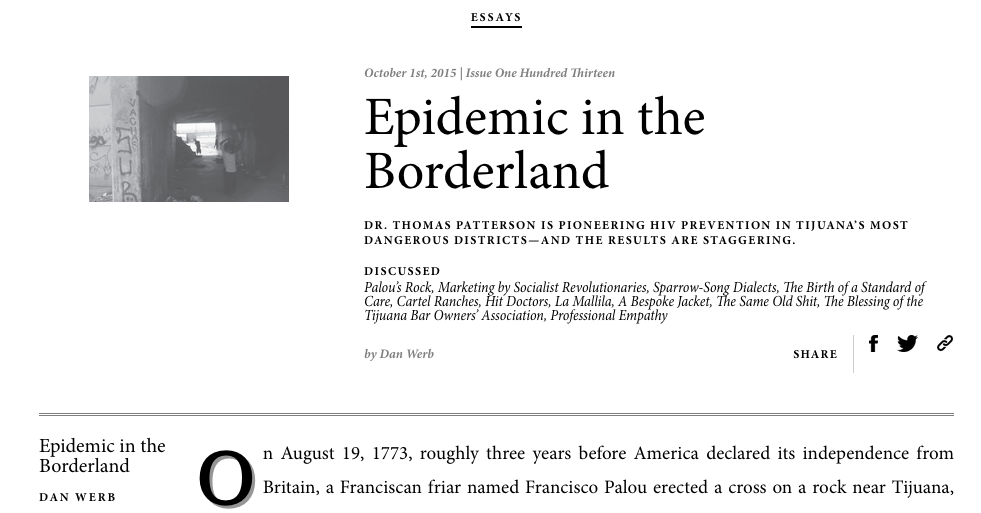 Oh man. Just heard the news that The Believer Mag – one of the most beautifully designed, smartest, and coolest literary magazines out there – is closing its doors. Such a sad day. I remember getting hooked on an interview with Killer Mike about his support for Black-owned businesses in Atlanta and that was that.
The Believer was a great place for long-form in-depth pieces that straddled journalism and what you would call 'upmarket non-fiction' (that's what one of my editor called writing that doesn't necessarily sell well but feels good to publish). 'Epidemic in the Borderland' fell neatly into that category. It's half-journalism, half-science writing, and it's about people and a place–Tijuanenses (Tijuana residents) working in the sex trade and living in the shadow of the border in the midst of a cartel war–that is mostly just the butt of crude jokes. I spent five years doing field research in Tijuana interviewing female sex workers, people who inject drugs, frontline harm reduction workers, scientists, police, and whoever else I could talk to about what was going on. The story is a complex one, with reverberations at every single level you choose to look at it from: the local red light district, the city itself, the border wall's imposition on the city, the 100,000 people who cross back and forth between Tijuana and San Diego every day, the broader relationship between Mexico and the U.S., and the international flow of consumer goods and illegal drugs that pass through Tijuana daily. It's all there. Hope you like it…and hopefully the Believer website stays up!